As a blogger you're going to be receiving a lot of pitches from brands approaching you to review items, host a giveaway, or just write about their products or brands. As an Ethical Fashion Blogger, it's really important to keep your beliefs intact!
Here are some tips that will help you know when to say no!
Define Your Bottom Line
While we're all Ethical Fashion Bloggers, not every cause has to be your cause and I can appreciate that. What IS important is that you define what you will NOT do. I for example will not feature brands or products that practice unethical manufacturing practices, this is something that is super important to me as a consumer and no matter how awesome the product looks or how popular it is, I will always turn down these products.
Your bottom line could be different, maybe you're very passionate about animal rights, or being green, or shopping local. Then your bottom line could be featuring only cruelty free products or eco-friendly products or local brands. If your passionate about all of these things then by all means do everything! But define your bottom line and don't let anything on your blog fall below that.
Ask Questions
Sometimes a brand is a bit vague on the details of their products. This doesn't necessarily mean that they have practices you don't believe in, it could just mean that they've found this particular pitch to be effective in approaching media. This is why it is super important to ask questions. Example of questions are:
What are your manufacturing practices?
Where are your materials sourced?
What are the intentions and motivations of your brand?
These kinds of questions can help you determine if this is a brand you'd want to promote.
Research
Researching a brand is a must!!! It's a smart thing to see what their practices have been when working with bloggers. Maybe a brand never provided a prize for a giveaway or the reviews of the product have been not so great. Knowing these things before you get involved with a brand is important.
Be Up Front With Your Policies
Some brands may expect a glowing review just because they gave you free product and it's really your responsibility to inform and manage their expectations.
So before you agree to review or have a giveaway of a product you should establish what your policies are in reviewing products and be up front with your policies with a brand. Whenever I respond to brands I always tell them my review policy and then forward them a link to my policies and disclosures page so they know what they're getting into.
Make sure the brand knows that your opinions will be 100% honest, negative or positive. I personally don't post negative reviews on made-to-travel, so I also let brands know that I will not write about their product if I've had a negative experience or I wouldn't truly recommend it to my readers. This is a personal choice, lots of bloggers write negative and positive reviews–so establishing what you will do is also important. But disclosing your policies and practices to a brand up front will let them know what they can expect from you and gets your relationship off to an honest start.
——————————————————–
Knowing when to say no to a brand really keeps the integrity of your blog and maintains the trust and sincerity you have with your readership. Everything you feature will say something about you, so I really encourage you to put a lot of thoughtfulness into your choices and I hope these tips will help you do that.
So Ethical Fashion Bloggers, what do you think? Have you been working with brands you believe in? Any cautionary tales?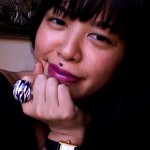 Jamillah writes at made-to-travel about ethical shopping and happy things. You can find her on twitter @made2travel.