(image from the library of congress)
One of the reasons I joined the Ethical Fashion Bloggers is to discover like minded people and really help grow a community of bloggers with wonderful intentions. So I was thrilled Ceri asked me to do November's roundup! It was a great way to see the awesome things you all are doing and discover some new go-to sites
.
The Only Way is Ethical- Lots of lovely shoes in this ethical shoe roundup.
Little House in Town- Lists great ethical finds in her Winter Wardrobe Wishlist.
Eco Warrior Princess- Introduces SPAIR, eco-friendly footwear to go!
Misfits Vintage- Dance party in a 60′s frock! This post is so super fun!
Jesse.Anne.O-Jesse shares struggles on why she buys and what the right clothes mean to us.
Daisy Dayz- Highlights from the Vivienne Westwood Cardiff Store launch party.
Recycled Fashion-Erica introduces the Thrift Store Runway!!!
Citizen Rosebud- Takes the Secondhand Pledge and offers you to do the same.
Jean of All Trades-Mega thrift find PLUS a hardy belly laugh
.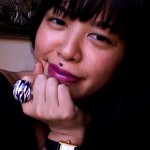 Jamillah writes at made-to-travel about ethical shopping and happy things. You can find her on twitter @made2travel.