I love Pinterest! The inspiration and discovery possibilities are really endless and there are some great great ethical pinners sharing great DIYs, new ethical brands, and various ways to become greener. Here are 7 of my favorites.
A note about my favorites: I totally understand sharing your posts from your own blog on Pinterest, in fact I encourage you to do so! BUT, I really tried to share pinners who are not solely pinning from their own site.
I think pinners who draw from many different places offer way more diversity plus sharing posts and items from other sites is a great way to support shops and blogs you love…so share share share.
You might have heard of blue caravan, the fabulous ethical design market based in Australia. Jen from blue caravan, has a great mix of boards from street art to tutorials and a variety of ethical products.
Hipcycle is a really amazing online boutique. Everything at Hipcycle is upcycled and I think their product selections are just excellent. As a pinner Hipcycle pins not just items from their shop but also ideas on DIYs and general upcycling desings.
Reincarnations Art is also a shop that sells only upcycled items. I think the shop is super charming. They share tons of upcycle DIY ideas and I love how they've broken up their pinterest boards into certain items; for example a board for just upcycling doilies or mason jars.
Caitlin Bristol works on the team at Ebay Green. I started to see Bristol's pins on my Pinterest feed and I was always attracted to them so I decided to randomly follow Bristol, a stranger. I googled her for this post and now my attraction to the ethical fashion she shares and style inspirations makes complete sense to me.
If you're into green living you probably heard of treehugger, they are one of the larger green sites on the internet. Their boards do have a lot of treehugger posts, but in this case I think it doesn't feel redundant since they have such a variety of topics and contributors. Their Pinterest account also covers fashion and DIYs which are not frequent subjects on treehugger.
Practically Green is a services that helps you become more sustainable and helps you track how green your life is. They also have a great blog. I LOVE this pinterest account it has a lot of great upcycling ideas, along with yummy recipes and green gadgets.
First off, YAY(!) times a million ecosalon has returned!!! They've found sponsorship and are pumping out new and great content. This makes me super duper super happy. I think their pinterest boards are really fun and varied just like their site, ecosalon also pins from a lot of different sites which makes for great boards and a lot of discovery.
Some Tips for Following on Pinterest
Finding Pinners to Follow

-If I like someone's Pinterest account I'll look to who they're following. A lot of times I'll like them too! A great trick when you feel like you need fresh content on your feed.
Follow Selectively

: Your Pinterest feed is not selective, you can't really browse by category or type of pinners. So if you don't follow carefully your Pinterest feed could be clogged with things that don't interest you.
Pick Your Boards:

You don't have to follow every board someone has, only select the boards that really interested you so that your Pinterest feed will be things you really love and want to know more about. For instance a lot of the people I follow have wedding boards, I'm not suuuper interested in this topic so I choose to not follow those boards.
Do you guys have any suggestion on who to follow? I would love to hear them! And what are your tips for using Pinterest, what do you love? Hate?
P.S- You can follow Ethical Fashion Bloggers on Pinterest HERE.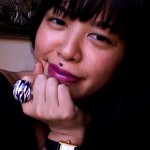 Jamillah writes at made-to-travel about ethical shopping and happy things. You can find her on twitter @made2travel.