When Ceri asked to pick our favorite hometown ethical designer I found this assignment super duper challenging because there are really so many wonderful ethical designers doing great things here in NY. But when I sat down and thought about aesthetic, price and accessibility I really didn't think it got much better than Nissa Jewelry.
(L-R: Seneca Ring $30; Isabella Ring $45; Set of 3 Small Chain Rings $78; Double Bar Ring $15; Studded Stacking Ring Set $22; Hamilton Large Stud Ring $40)
All Nissa Jewelry is handmade in NYC and most of their jewelry is made of recycled metals. I personally really love rings and typically of the bolder variety, so I'm really naturally attracted to the bold edgy Nissa rings. I already own 2 of them (seen here and here) and they are definitely 2 of my favorites.
Nissa Jewelry is a darling in fashion right now, spotted on everyone from Jordan Sparks to Chelsea Handler to Kim Kardashian and Julianna Rancic and from magazines from In Style to Self.
(L-R: Talasi Jeweled Necklace $88; Long Twist Necklace $49; Sheba Bib Necklace $39; Bernice Necklace $123)
I think Nissa has received such well deserved praise because there really is a great variety of design while still keeping a narrow point of view. I would say the main esthetic is definitely edgy, urban and bold, but there are definitely pieces that make a quieter statement alongside pieces that have a bit of whimsy.
(L-R: Dreamcatcher Bracelet $68; Clara Bracelet $24; Cleo Earrings $55; Delano Stud Earring $55; Dakota Bracelet $82; Cobblestone Earring $30; Comancher Catori Cuff $198)
Nissa Jewelry also offers a really palatable price point with regular items starting at about $18 and then going up to as much as $350 and they have a stellar sales section as well with things constantly getting added so be sure to check that out!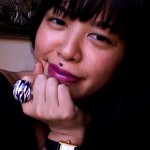 Jamillah writes at made-to-travel about ethical shopping and happy things. You can find her on twitter @made2travel.