(image source)
Hi Ethical Fashion Bloggers and Happy Earth Day! Obviously we hope that all of you find the Earth special all year round but since today is a special day to celebrate green efforts and all efforts that make a better cleaner place. Here are some ways to celebrate Earth Day with your readers.
Wear Vintage-Head to Toe!
There's no better way to show your readers the value of 2nd hand clothing than by wearing it yourself. Shopping second hand is pretty accessible for most so share some of your thrifting tips and tricks and favorite places to find 2nd hand finds.
Swap/Shop/Win with Your Stuff
Finally, clean that closet of yours and let readers swap with an item of their own or buy your former things. Also in the spirit of cleaning and reusing, take some of the best things in your never to wear again pile and have an Earth Day giveaway.
Earth Day Sales
There are a lot of ethical stores doing Earth Day deals. For example Nau andAbe's Market are both having Earth Day specials. This is a great way to introduce your readers to ethical stores while showing some love for ethical shops you believe in.
Green DIY's
If you're a crafty blogger show it off! Share a green DIY, reusing and upcycling something you already own or can find in a normal household.
If you're not so crafty share a green DIY roundup. Be sure to source all the DIY's and credit and link back! You can find some great green DIYS at Crafting a Greenworld or go on to Pinterest and type in "green crafts" or "upcycling".
Have Your Readers Take a Pledge
(photo source)
One of my favorite pledges is this Slow Down pledge that comes from Slow Fashioned. But whether you take a pledge that already exists or make one up of your own; ask your readers to take it with you. Make the pledge honest and thoughtful and in the spirit of Earth Day.
How will you be celebrating Earth Day with your readers?!?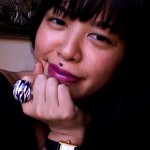 Jamillah writes at made-to-travel about ethical shopping and happy things. You can find her on twitter @made2travel.