Hi Ethical Fashion Bloggers!!! We are so lucky to live in 2012(!) where there is just a plethora of resources out in the world accessible literally by our fingertips. For us ethical fashion bloggers, it's valuable to read sites that have content we can relate to and be inspired by, and there is no shortage of great ethical fashion sites out there.
This is the very short list of my go to sites for all things ethical! I hope you find tons of new ideas and inspiration from them.
Crafting a Greener World is a wonderful site dedicated to DIYs and crafts that focus on crafting via upcylcing and reusing. Most of their DIYs involve recycling items and using things you already have in your home, PLUS they strive to use green supplies to actually make the craft. You MUST check out the "How to Reuse…" section, it lists ways to reuse common items from old sweaters to computer keyboards! And they take requests! Brilliant!
Daisy Green Magazine is a UK based site that while their focus is highlighting ethical fashion they touch on lots of lifestyle topics like recipes and beauty. Their weekly newsletter is probably one of my favorites to peruse because their content feels very grounded and accessible.
Ecouterre is an amazing place for ethical fashion and ethical fashion design. Their selections are always really current and modern and they do fantastic coverage of NYFW Green/Ethical Shows. The range of ethical fashion is all represented at Ecouterre which makes for compelling content, from DIYs to ready to wear to avant-gard–it's all really inspiring.
OK! This one is a bit of a cheat!!! Not a total ethical fashion site, but Ecorazzi is one of my favorite reads, it's like TMZ for conscious consumers. Their tagline "Good Gossip," is completely true-they keep you posted on the ethical choices being made on the red carpet as well as share all the news on goodness the celebrities you love and love to hate are doing. I mean hellloooo The Situation helping out PETA?!?!
HippyShopper is another UK based online magazine. This site definitely gives a huge range of advice on ethical living and ethical shopping. I think they do a great job delivering ethical fashion news and their ethical roundups always seem very on the pulse of what's going on.
Beauty Palette is a newer site, but I am obsessed with it! While focused on natural and ethical beauty this site is dedicated to what you also put in your body. The reviews on "Tester Thursdays" are something to look forward to!
If you're into thrifting Sammy Davis Vintage is an incredible place for inspiration. She's a NY based blogger who dedicates her site to thrifting. Her style is suuuper unique but she shares way more than that…everything from making fashion from the 30′s current or bringing back the 90′s in a modern way via thrifting, she really does tackle it all!
Magnifeco really brings an editing eye with sophisticated taste to all their ethical fashion highlights. They also cover ethical events and brands from NY to London so I think it's really relevant to a lot of locales.
Ecofabulous is another site that has a lot of topics, they really encompass what their tagline says, "stylish, sustainable, living." Their ethical fashion section is filled with news on new collaborations and products for the conscious consumer and their roundups are very timely and relevant.
I would be remiss not to mention the awesome site that was Ecosalon. Besides covering great ethical fashion and ethical fashion events ecosalon covered many many topics. I loved their quotes roundups i.e. 30 Quotes on Overcoming Challenges or 20 Quotes on Style. Sadly, this incredibly prolific site has shut it's doors down and they are no longer posting. BUT! Ecosalon's site still lives and you can definitely troll their archives for inspiration.
So there you have it, my top 10 ethical fashion sites! Tell me all about your favorites!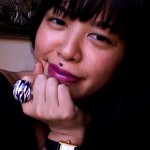 Jamillah writes at made-to-travel about ethical shopping and happy things. You can find her on twitter @made2travel.